Ballintoy
For those who love the wild outdoors!
Wind your way down the zig-zag road and arrive in Ballintoy harbour with its backdrop of dramatic coastline. This once-bustling port is now home to only a few small boats. These boats catch fish like mackerel using rod and line and occasionally catch lobster and crab using pots. Follow the grassy footpath and ramble over the rocky shoreline to the marvellous White Park Bay. From Ballintoy, you can even book a coasteering adventure where you can jump off rocks into the ocean below - this trail is for the wild ones! As this is a famous filming location for Game of Thrones, Ballintoy harbour can get very busy during the summer.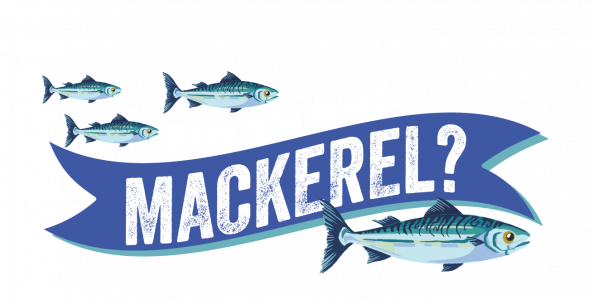 There are a few little boats that catch mackerel from Ballintoy, using rod and line. This is a very sustainable method of catching fish. Mackerel is a healthy choice of fish, high in Omega-3 and has a delicious, rich flavour. Embrace the white sands and blue seas of Ballintoy's secret beach with this Greek salad and smoked mackerel recipe.
Smoked Mackerel & Greek Salad
Prep Time: 15 Mins
Skill Level: Easy
2 x smoked mackerel fillets, skin removed
150g vine-ripened cherry tomatoes, halved
2 tbsp. olive oil
1⁄4 red onion, finely sliced
1⁄2 cucumber, deseeded and cut into chunks
2 little gem lettuce, sliced
Handful greek olives, pitted
Squeeze of lemon juice
70g feta cheese, crumbled
Chopped fresh parsley, to garnish
2 pitta bread, warmed, to serve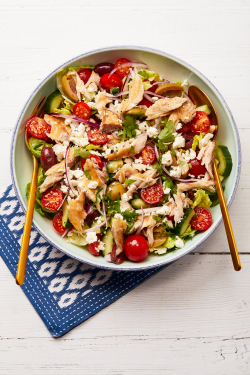 Place the tomatoes in a bowl and season with salt and pepper and a little of the olive oil.
Assemble the tomatoes, onion, cucumber, lettuce and olives in two large bowls or plates. Top with the flaked mackerel and crumbled feta cheese.
Dress the salad with the remaining olive oil, a squeeze of lemon juice and a pinch of salt and pepper. Garnish with the parsley and serve immediately with the pitta bread.