Derry/Londonderry
A city steeped in history with plenty of seafood to enjoy.
The beating heart of Derry/Londonderry is the River Foyle, which flows into Lough Foyle creating a sheltered haven that has served fishing boats for centuries. Up until the 1970s, fishing boats would target salmon in the lough as they migrated towards the river. The wild salmon fishery has since ended but the lough still supports a traditional wild fishery for one of the last remaining populations of native oyster… These native oysters have been fished as far back as 1832 and, today, this sustainable fishery still lands between 100 and 200 tonnes every year. That's the same weight as a blue whale!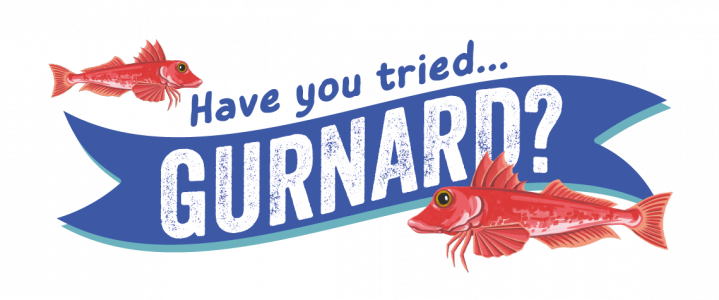 Gurnard is a brilliantly bizarre looking fish which has only recently surged in popularity. In the past, it was thrown back or used as bait. But the love for this sustainable species is catching on in Derry/Londonderry and if you see gurnard on the menu, give it a try! Three species of gurnard are commonly caught in the Irish Sea: grey, tub, and red gurnard; they vary in size and colour but are equally delicious! With a mild flavour and a firm meaty texture, gurnard is a perfect partner for these tasty tacos. Fun to make with all the family.
Baja-style gurnard tacos
Prep Time: 25 Mins
Cook Time: 15 Mins
Skill Level: Medium
Serves 4
2 tbsp mayonnaise
2 tbsp sour cream
1 tbsp chipotle hot sauce
Juice of ½ lime
150g plain flour
250ml lager or golden ale
1 tsp smoked paprika
½ tsp salt
Generous pinch of black pepper
250 ml Vegetable oil, for frying
400g gurnard fillet, cut into good-size chunks
8 tacos
¼ small red cabbage, finely shredded
Handful of fresh coriander, finely chopped
Shop bought guacamole
Shop bought salsa
Lime wedges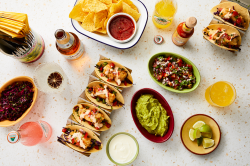 Mix together the mayonnaise, sour cream, chipotle sauce and lime juice. Cover and keep in the fridge until ready to serve.
Add the flour, lager or ale, paprika, salt and pepper to a large mixing bowl and whisk well to combine.
Put the cooking oil in a large, heavy-bottomed pan and bring to a high heat. Dip the fish pieces into the batter, letting any excess batter drip off. Slowly drop the fish into the hot oil. Working in batches, cook the fish for 4–5 minutes or until golden brown. Remove with a slotted spoon and transfer to some kitchen roll to drain off the excess oil.
To serve, warm the tacos according to packet instructions and combine the cabbage with the coriander. Serve the fish with the tacos and bowls of the shredded cabbage, chipotle sauce, salsa, guacamole and lime wedges.