Carlingford Lough
Hop between unique seaside towns on this seafaring trail. 
Nestled between County Down to the north and County Louth to the south, there are many seaside towns to explore along the shoreline of Carlingford Lough, famous for local myths and legends of Celtic warriors. Greencastle, Rostrevor and Warrenpoint are all stops on this Trail, each one unique and well worth a visit. If you cross the lough on the ferry, you can also head to the town of medieval Carlingford, where you can link up with the Sea Lough Trail. The whole lough is a mecca for shellfish like mussels and oysters, and has harbours great and small that boast spectacular views of the surrounding mountains!

Oysters are considered a delicacy all around the world and can be enjoyed raw, straight from the shell! Carlingford Lough is renowned for its oysters, providing all the nutrients they need from the changing tides. Fresh water from the mountains also gives these oysters a distinctive rich flavour. Did you know, oysters store carbon in their shells, permanently removing it from the atmosphere? Playing their role in combating climate change. Oysters are a special treat that are fun to share with family and friends.
Quick grilled oysters with pesto butter
Prep Time: 10 Mins
Cook Time: 5 Mins
Skill Level: Easy
Serves 4
100g butter at room temperature
1⁄2 lemon, juiced
30g parmesan, grated plus extra to garnish
30g fresh basil, coarsely chopped
1 garlic clove, minced
2 tbsp pine nuts
12 oysters, shucked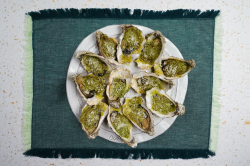 For the pesto butter, add the butter, lemon juice, parmesan, basil, garlic and pine nuts to a food processor and blitz until it's a smooth consistency.
Place your oysters on a grill pan or large baking tray and put 1⁄2 tsp of the pesto butter on top of each oyster.
Cook the oysters under a preheated grill for 3-4 minutes each. Serve immediately with a sprinkling of grated parmesan (optional).