Cushendall & Cushendun
For the nature-lovers in search of peaceful beaches and ancient harbours. 
This trail explores two coastal villages, joined by part of the stunning Causeway Coastal Route. In the past, fishermen caught wild salmon in the rivers that flow through the Glens of Antrim. Cushendall and Cushendun were important landing places for this salmon. This peaceful, pretty trail provides the opportunity to connect with the sea away from the hustle and bustle of other busier ports.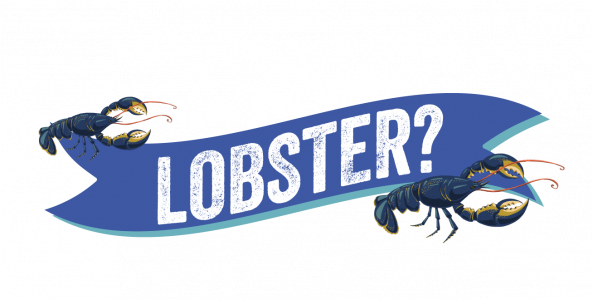 Lobster is one of the main catches for fishermen along the north coast of Northern Ireland, and is traditionally caught using pots - a low-impact, sustainable way of fishing. All small lobsters are returned to sea, while 'hen' lobsters carrying eggs are 'V-notched' before being returned to sea, to let other fishermen know that she's a breeding female. Lobster is delicious but can be expensive, so is usually enjoyed as a special treat!
Lobster Mac & Cheese
Prep Time: 5 Mins
Cook Time: 20-25 Mins
Skill Level: Challenging
Serves 2
8 cooked king prawns
2 cooked lobster tails, halved lengthways
150g macaroni pasta
1 tbsp chopped chives
FOR THE SAUCE:
20g butter
20g plain flour
200ml hot semi-skimmed milk
1 tsp mustard
100g mature Cheddar cheese, grated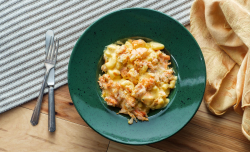 Preheat the oven to 200°C/fan 180°C/gas mark 6.
Cook the macaroni according to the packet instructions until al dente (firm), then drain.
While the pasta is cooking, make the sauce: melt the butter in a pan, tip in the flour and stir until the mixture forms a smooth paste. Cook gently for a few minutes, then pour in the hot milk, a little at a time, stirring constantly, until the sauce thickens. Next, stir in the mustard and most of the cheese, and heat gently until the cheese melts. Finally, add the cooked macaroni, chives and prawns.
Place the lobster into two ovenproof dishes and spoon over the pasta mix. Sprinkle with the reserved cheese and place in the oven for about 10-15 minutes until the lobster is piping hot and the cheese on the top starts to turn golden. Serve immediately.