Ballycastle
A bustling harbour town with a variety of tasty seafood to try
There is so much to see and do in Ballycastle and you are spoilt for choice when it comes to seafood! Explore the shores of Ballycastle beach and watch the spectacular waves rolling in. You can also catch the ferry to Rathlin Island, home to a community that is connected to the sea. Ballycastle is an important landing port for fishermen catching lobster, crab and scallops.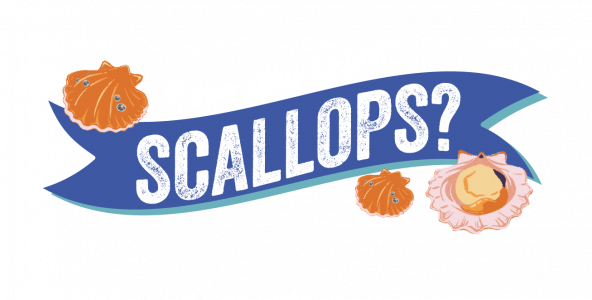 Scallop dredgers catch King and Queen scallops on areas of sandy seabed in offshore waters off the north coast. King scallops are large and flat, whilst Queen scallops (known as 'Queenies'!) are smaller and rounder. Scallops are a delicacy and very rich in flavour, so for this recipe, you just need one or two to go alongside the other ingredients. Scallops have a sweet, delicate texture and flavour.
Scallops with Pea Risotto
Prep Time: 5 Mins
Cook Time: 30 Mins
Skill Level: Medium
Serves 4
350g risotto rice
16 fresh scallops (4x per person)
750ml low sodium vegetable stock
125g frozen peas
100g parmesan, grated and a little extra to garnish
100ml dry white wine
2 shallots, finely chopped
1 lemon, zested
1/2 lemon, juiced
Salt and pepper
Olive oil
1 tbsp butter
Mixed leaves to serve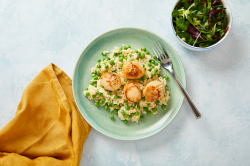 For the risotto, heat 1 tbsp olive oil in a pan on a medium heat. Add the chopped shallots and cook for a few minutes until translucent.
Add the risotto rice and toast for a minute or two, continuously moving around the pan, before adding the white wine.
Stir well and then add the stock, one ladleful at a time, stirring until the risotto is a nice creamy consistency and the rice still has a good bite.
Mix in the frozen peas and parmesan and gently heat until the peas are cooked through and the cheese has melted. Season to taste with salt and pepper and keep covered on a low heat until ready to serve.
Just before serving, stir the lemon zest through the risotto (you can add a splash of stock to loosen the rice off if needed).
To cook the scallops, heat the butter and 1 tbsp olive oil in a large pan on a high heat. Add the scallops to the pan, season with salt and pepper and cook for 2-3 minutes (depending on size) on each side, or until golden brown.
Serve seared scallops on a bed of the risotto, along with the mixed salad leaves, dressed with a squeeze of lemon juice.