Carnlough & Glenarm
A charming trail for foodies and nature lovers.
Two quiet coastal villages, Carnlough and Glenarm, sit side by side on the rugged County Antrim coast.  Small in size but not in character, expect quaint streets with colourful houses and plenty of history and nature to explore. Set sail aboard the Curiosity - a sight-seeing boat tour run by local fisherman Davy in the summer - tuck into fish and chips as you watch the activity from Carnlough's charming harbour, or simply relax and gaze out to sea...
Look out for Davy, a local fisherman, who might be landing lobsters in Carnlough harbour. Fishing is in Davy's blood as his "Granda and Da" were both fishermen. His boat was a gift for his 18th birthday, and came with the name 'Homeward Bound'. Did you know it's unlucky to change the name of a boat? "My Da changed one boat's name once and he never had much success with it," he reminisced. You can meet the wonderful Davy yourself as he also runs sight-seeing tours out to sea from the harbour in his other boat, 'The Curiosity'.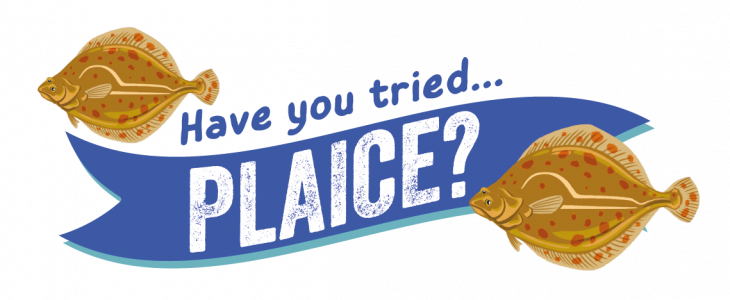 Did you know that plaice are round when they hatch, but as they grow, their body becomes flatter and one eye migrates to the right side? In other species the eyes move to the left, so plaice are known as a 'right-eyed' fish! Plaice has a sweet and delicious flavour enjoyed on the bone or as fillets - whichever you prefer! Cook your fillets using the recipe below for an easy, aromatic fish dish. 
Harissa plaice with roasted vegetables
Prep Time: 20 Mins
Cook Time: 20 Mins
Skill Level: Easy
Serves 4
4 x 170g skinless, boneless plaice fillets
2 courgettes
6 mixed peppers, deseeded
3 red onions
2 - 4 tbsp harissa paste (depending on taste)
3 tbsp olive oil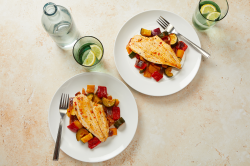 Preheat the oven to 190oC (fan 170oC). Cut the courgette, peppers and red onions into even-sized chunks and add to a large oven-proof dish.
Drizzle with olive oil and add a generous sprinkling of salt and pepper, 100 ml of water and 2-3 tbsp of the harissa paste. Stir well to coat the vegetables. Place in the oven for 15-20 minutes, checking halfway to toss the vegetables and cook until tender.
Mix 2 tsp of the remaining harissa paste with 2 tbsp cold water and set aside.
Add a knob of butter to a frying pan and heat until foamy. Season the plaice with salt and pepper and add to the pan. Cook for 3 minutes each side, spooning over the harissa and water stock.
Once cooked through, remove from the pan and serve on a bed of the roasted vegetables.